Kay Chemical has been Taking Care of Hardworking Hands for over 50 years with our patented and trademarked K-GARD Waterless Industrial Hand Cleaner.   Kay Chemical Company is a family owned and operated business focused on quality, safety and customer service.
Female Owned Business – Est. 1965
About Kay Chemical Company
Kay Chemical Company was founded by Abby Katz, a businessman in the Cleveland Ohio area.  Mr. Katz' friend was a chemist and he and a team of professionals set out to invent a waterless hand cleaner that would effectively remove a variety of contaminants while combating dermatitis and conditioning the skin.  In 1962, after years of research, K-Gard Waterless Industrial Hand Cleaner came to fruition. The company Kay Chemical was affectionately named after Mr. Katz' wife, Kay Katz.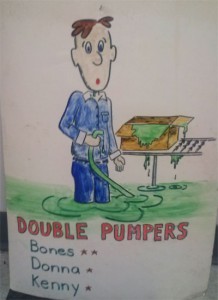 In 2000, my Uncle, Gene Wodzisz purchased Kay Chemical Company and the patented K-GARD formula to add to his existing warehousing business. As the oldest of 10 children, (my father happens to be the youngest,) Uncle Gene has had a small army of siblings, in-laws, nieces and nephews to call on over the years for assistance in running the company.  In our close-knit family of 100+ people, many of us have had the opportunity to "pump soap" (fill bottles), package cases, shrink-wrap pallets….the list goes on.  Through the years, many discussions have ensued over who were the all-time best  and worst fillers, whose technique was most efficient, who's actually filled the most bottles, etc.  We've teased each other about joining the infamous "Double Pump Club"…(overfills that result in a bit of a mess!)  To date, the only member of the "Triple Pump Club" is Uncle Jim, but the all-time spillage record is held by Uncle George for his 55 gallon mishap!
In 2012 Uncle Gene announced that he no longer wished to continue running the business.  For many reasons, I found the idea of Kay Chemical and K-GARD ceasing to exist to be very disheartening.  With the support and guidance of my husband Bob, I've set out to continue this portion of our family's legacy.   It is our mission to provide a high-quality product, while maintaining a family-oriented, ethical and customer-service-related environment.  It is also our hope that our own young and growing family will have the opportunity to learn the value and reward of hard work and the fun of cleaning up a "double pump."